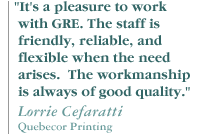 Shrink-wrapping - Multiple high-speed lines enable GRE to handle large or small production runs with quick turn around on short notice. From fancy gift baskets, to games, books and leaflets, shrink-wrapping provides an effective barrier against dirt, moisture and odor.
Hand assembly - Our large skilled workforce is experienced at many different types of hand erection and assembly. This includes hand gluing of oversized folding cartons, corrugated boxes and displays, as well as simple assembly of plastic components. For consumer packaging applications, we offer ancilliary operations such as application of labels, bows, ribbons, velvet cords with grommets, etc.
Hand filling - Selection and placement of products into consumer packaging; GRE is experienced in products ranging from the simple (colored tissue paper and a single standard product) to the complex (25-50 polybagged and color coded subassemblies each consisting of multiple distinct pieces.) Extensive specific experience with cosmetic gift baskets/sets, videocassette packaging, and educational kits.
Inspection/Rework/Repack - Manual sorting and rework of new or returned product in keeping with customer specified standards, may include application of new labels.
Companies can rely on GRE's Contract Packaging Services to:
- Expand production of packaging lines and increase productivity
- Decrease investment in single purpose machinery
- Reduce short-term labor and space requirements
- Determine a fixed unit cost for labor-intensive projects