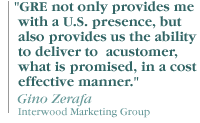 Warehousing - GRE can warehouse products, premiums, and literature in an expandable 80,000 square foot warehouse. The facility is secure and well organized with online access to real time inventory data. Customers of GRE can save by paying for only the space used.
Order Processing - GRE has the ability to receive customer orders via phone, fax, mail or the Internet. Orders are entered into the system, packing slips are produced, orders are picked, packed, shipped and inventory is updated automatically. GRE provides same day processing as well as batch processing when requested.
Mailing - Mailing services provided by GRE are reserved for pieces that require hand inserting. GRE will assist our customers in providing the most economical postage costs for the service required. Machine inserting of letter mail is available through our associations with several local and international lettershops.
Inventory Control - GRE's inventory system allows for an unlimited number of inventory items with real time accessibility to reports through GRE's customer service extranet. This application automatically decrements/increments inventory when product is shipped or received. Bar-code scanning is used to reduce human error. Inventory reports can be queried and displayed in printable or download format.
Returns Processing - How to handle customer returns and the space required can be answered with GRE's returns processing services. GRE will act as your companies return location, receive all inbound shipments, verify the authorization number, alert your company of the return and warehouse the items pending disposition instructions.
Forwarding - While the true advantage is realized by using GRE's order processing service, forwarding services are also available. International customers and providers of customized items can ship products to GRE in bulk. GRE will then breakdown the shipments and distribute the products using domestic rates and transit times.
Internet Distribution - The newly implemented system at GRE provides our customers selling products and services on the internet with a real advantage. The entire process from the payment authorization to shipping the product/information is automated.
US Business Address Services - International customers can utilize GRE as their US Business Address. GRE will provide a street address for receiving shipments, mail forwarding, and may be used for all your sales and marketing needs.