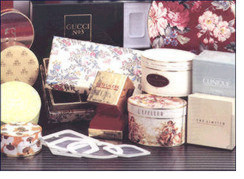 At Burt Rigid Box, Inc., we have been committed to innovation, quality, and service in custom fancy set-up box manufacturing for over a hundred and ten years. We machine-manufacture high quality round, oval, square corner, and book-style set-up boxes and thermoformed plastic components in our facility located in Oneonta, NY. Our sister company, GRE Fulfillment, Inc., in Buffalo, NY, supplies contract packaging services such as shrink wrapping, collating, polybagging, labeling, and hand assembly, as well as warehousing and distribution services. Together we offer start to finish quality, consistency and service.

Burt Rigid Box, Inc. provides innovative packaging solutions starting with creative structural design and sample-making. We offer both custom and stock graphic alternatives, and package interior alternatives that include board, vacuum-formed styrene, fabric and foam. Add design extras such as hinged lids, cord handles, eyelets or decorative bows, and your product presentation becomes truly unique.

Imagine the possibilities!

We're known for our ability to combine award winning design with uncompromising product quality, innovative techniques and on time delivery. Our highly skilled designers, sales consultants and craftsmen are waiting to work with you on your unique packaging requirements. Check out our website at www.burtbox.com!